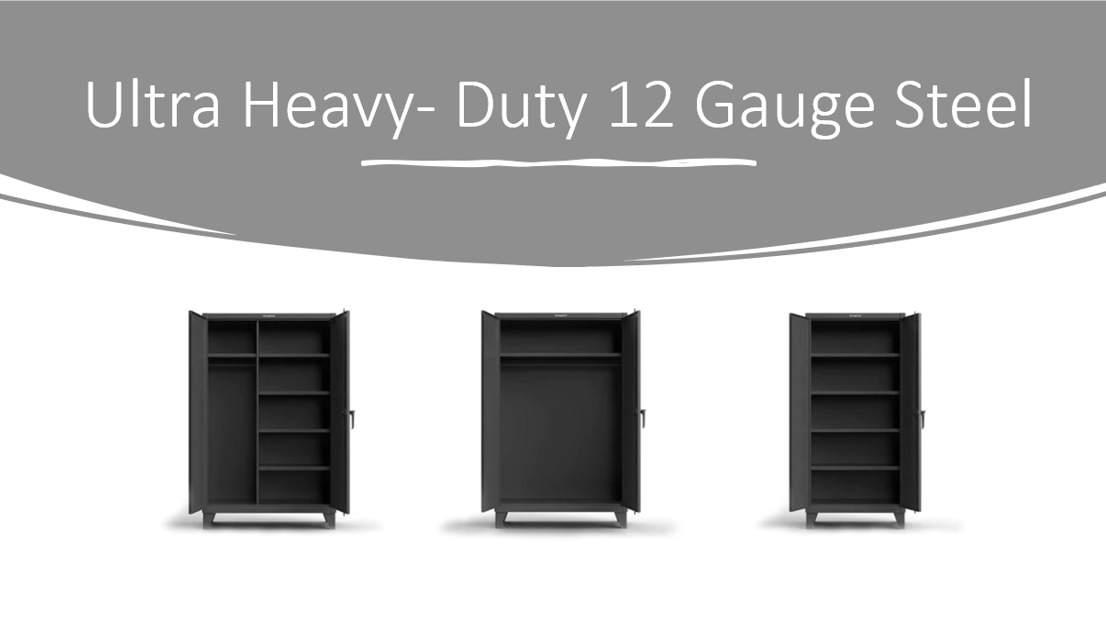 What Makes a 12 Gauge Cabinet Better?
Ainsley Gialamas
Our extreme-duty 12 product is the strongest and most durable steel gauge we offer for cabinets and lockers. All cabinets and lockers are protected by a 3-point locking system and 8-gauge leaf hinges for ultimate security. You can easily shop our heaviest-duty collection. The collection features workstations, cabinets, and lockers, with Clearview, Solid, and Ventilated doors.
The doors are handcrafted and feature stainless steel hinge pins for rust-free and smooth operation and are impact resistant. Our 12-gauge cabinets and lockers feature 6" raised legs that allow for easy cleaning. Most importantly the raised legs allow for forklift movement and placement. Given the strength and weight of the 12-gauge steel forklift movement is one of the few options to relocate or move the cabinet or locker in your facility. This limits the ability of personnel to steal or move the cabinet without the knowledge of others. These cabinets are powder-coated dark gray, black, or light gray for lasting durability.
12 Gauge products come equipped with a Strong Hold 99-Year Limited Warranty. As an example, if you purchase a 12-gauge Strong Hold Product, it comes with a 99 Year Limited Warranty. Should that 12-gauge cabinet, shop table, shop desk, workbench, or tool cart ever fail due to a defect from materials or original construction, Strong Hold will repair or replace your product free of charge. Period. You will need to register your product to be able to enact the warranty coverage. The registration information will be provided with your delivered product. If you cannot locate it or have any questions, please contact us upon receipt of your product.
We also have lockers, cabinets, and workstations in extra heavy-duty 14 gauge steel and heavy-duty 18 gauge welded steel.  All products on our website can be manufactured with 12-gauge steel for enhanced durability and security. Please submit a quote detailing your specifications including gauge and any additional storage features needed.